From August 14 to 18, China Soong Ching Ling Foundation invited more than 50 college students from Yi ethnic group in Liangshan and some 30 high school students from the Tibet Autonomous Region to participate in an exchange visit in Beijing. This activity is designed to enhance exchange between young people, arouse their patriotic enthusiasm and strengthen national unity.
On the afternoon of August 16, CSCLF Vice Chairman Jing Dunquan met with these students. He asked about their studies and made dumplings with them, sending the foundation's greetings and care.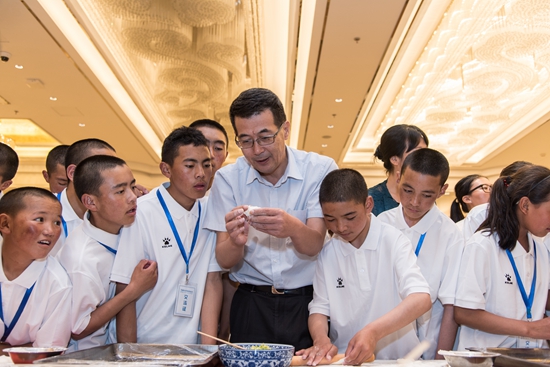 CSCLF Vice Chairman Jing Dunquan is making dumplings with students.
Paralympic champion Sun Changting delivered a motivating speech to students. From a disabled child to a hero who broke the world record twice at Paralympic Games, Sun's stories greatly inspired all attendees. Students were encouraged to face difficulties with a more optimistic view and work hard to write their own legends.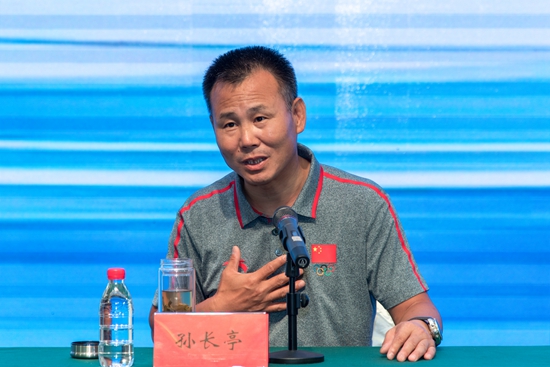 Paralympic champion Sun Changting is making a motivating speech.
During their week long stay in Beijing, students observed the flag-raising ceremony at Tian'anmen Square, visited the Former Residence of Soong Ching Ling, went to the Juyongguan Great Wall and the Summer Palace. They also had a gathering with volunteers of the CSCLF and worked at a Starbuck store. Through these activities, they had a better sense of the profoundness of the Chinese culture, the unity of all ethnic groups and China's economic and social prosperity.
A Tibetan child said, "I'm so glad to see brothers and sisters from Yi and Han ethnic groups. They make me feel at home." Another girl from Tibet lamented that pleasant time flies so fast and expressed hope to take part in activities of this kind again in the future. Peng Dongzhi, a student from North Sichuan Medical College, said he gained a lot from this activity. "I'm more determined to help others," said he. They extended their gratitude for the assistance of the CSCLF and other donors and cherished the opportunity to participate in this activity. In their future studies and life, these students vow to promote traditional Chinese virtues and the spirit of Soong Ching Ling, be grateful and live up the expectations of the Party and people.
Tang Jiuhong, director of the CSCLF's Fund Department, said this exchange visit was aimed to help children broaden their horizon, make friends, witness China's development and feel the care from the society. Tang called up all participants to share their experience with their families, friends, classmates and teachers and study hard to become a helpful member of the society. She encouraged them to make contributions to the realization of the Chinese dream of national rejuvenation.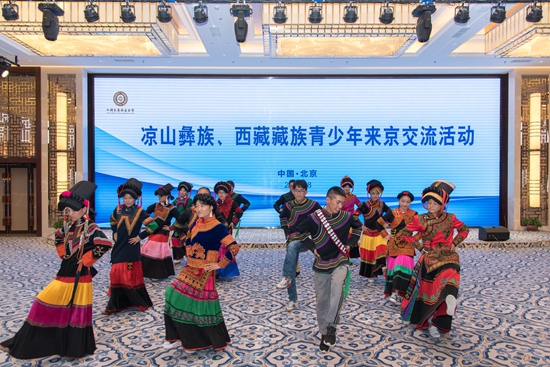 Students from Yi ethnic group in Liangshan are performing a dance.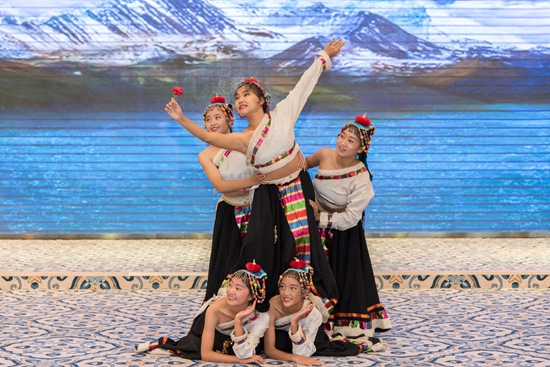 Students from Tibetan ethnic group in Tibet are performing a dance.
(Source: Fund Department, General Office)